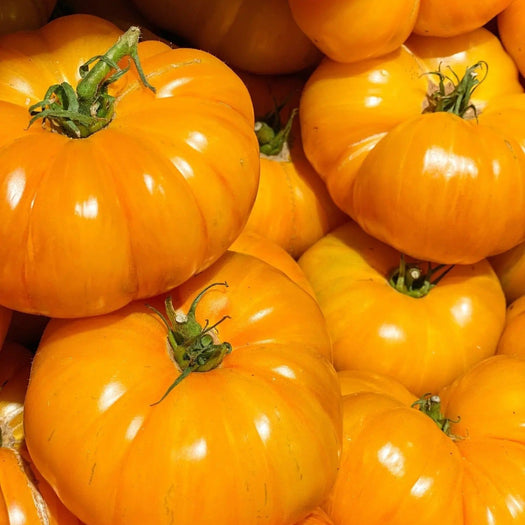 Tomato Seeds - Kellogg's Breakfast
Original price
$2.00
-
Original price
$2.00
25 Seeds
Maturity: 80-85 Days
Beefsteak Variety
Indeterminate Growth Habit
Sweet & Flavorful
Dr. Carolyn Male Endorsement
Named After Steward: Darrell Kellog
Originated in Redford, Michigan
History:
The Kellogg's Breakfast Tomato holds a story as rich and colorful as its vibrant orange hue. Named after its steward, Darrell Kellog, a railroad supervisor from Redford, Michigan, this tomato shot to fame and became synonymous with its namesake. But it wasn't just Kellog's dedication that led to this tomato's acclaim. Dr. Carolyn Male, renowned author of "101 Heirloom Tomatoes", championed this variety, leading to its esteemed reputation among tomato enthusiasts.
Uses:
Favored for its sweet and robust flavor, the Kellogg's Breakfast Tomato is a versatile addition to any kitchen. Its beefsteak nature makes it perfect for slicing and adding to sandwiches, salads, or enjoying on its own. Its delectable taste ensures it stands out in any dish, making it a top pick for culinary creations.
Growing Habits & Planting Instructions:
As an indeterminate tomato variety, the Kellogg's Breakfast Tomato will produce fruit continuously until the first frost. To get started, plant the seeds indoors about 6-8 weeks before the last expected frost. When transplanting outdoors, ensure you space the plants roughly 24-36 inches apart, in rows 36-48 inches apart. These tomatoes thrive best under full sun and in well-drained soil. Regular watering, combined with periodic fertilization, will yield a healthy and bountiful crop. As the tomatoes mature, they'll adopt a beautiful orange hue, signaling their readiness for harvest.