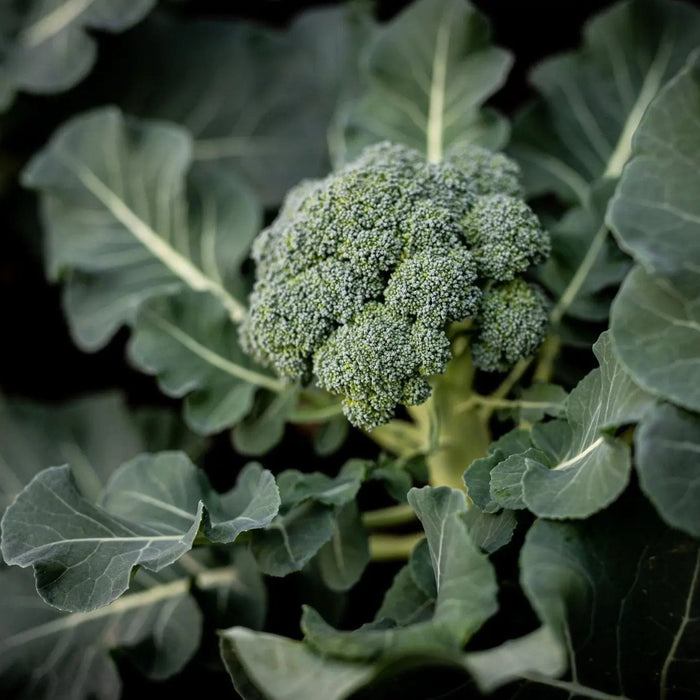 Broccoli Seeds - Di Cicco
Original price
$2.00
-
Original price
$2.00
Seed Count: 300 Seeds
Maturity: 50-70 Days from Planting/Transplanting
Growth Habit: Compact, Bushy with Continual Harvest
Origin: Italy
Introduction to Gardens: 1920s
Culinary Use: Versatile - great for salads, steaming, and stir-fries
Plant Spacing: 18-24 inches apart, in rows 24-36 inches apart
Sowing Instructions: Start indoors 6-8 weeks before the last frost
Historical Significance: Di Cicco Broccoli, originating from Italy, has been a cherished variety in gardens since the 1920s. As an heirloom variety, it has been passed down through generations, consistently praised for its delicious flavor and reliable growth. This variety has become a staple in American gardens, embodying a rich history of culinary and gardening traditions.
Culinary Versatility: Di Cicco Broccoli is celebrated for its deep, earthy flavor and tender, compact heads. This variety's versatility makes it ideal for a variety of dishes, including fresh salads, lightly steamed sides, and hearty stir-fries. Not only does it produce a primary head, but its numerous side shoots also provide a prolonged harvest, offering a continuous supply of tasty broccoli.
Planting & Growth Guide: To achieve the best results with Di Cicco Broccoli, start by sowing seeds indoors approximately 6-8 weeks before the expected last frost. Once the seedlings have developed and the threat of frost has passed, transplant them outdoors into a sunny location. For optimal growth, space the plants 18-24 inches apart, in rows that are 24-36 inches apart. This broccoli thrives in cool conditions and requires regular watering. With proper care, gardeners can expect a bountiful and extended harvest from their Di Cicco Broccoli plants.
Summary: Di Cicco Broccoli is an exceptional choice for gardeners and cooks alike. Its historical significance as an heirloom variety, combined with its culinary versatility, makes it a highly valued addition to any garden. This broccoli variety not only promises great flavor but also a generous and continuous yield, making it a beloved choice for home gardens.