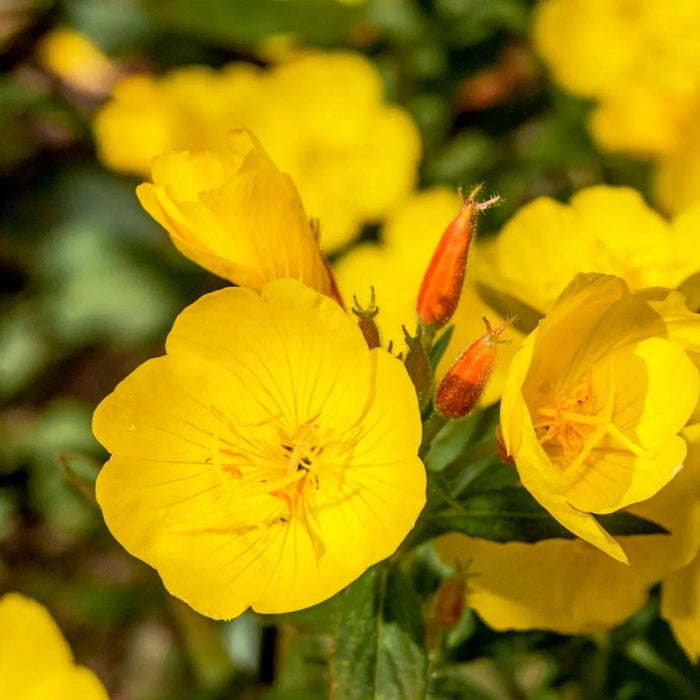 Oenothera Seeds - Evening Primrose
Original price
$2.00
-
Original price
$2.00
Seed Count: 500 Seeds
Maturity Date: 60-70 days from planting
Plant Type: Perennial
Flower Color: Brilliant Yellow
Plant Height: Up to 2 feet
Spread: 2-5 feet wide
Sun Requirements: Full sun to partial shade
Soil Requirements: Moist, well-drained soil
History: Evening Primrose is a fascinating plant native to North America, particularly noted for its nocturnal blooming habits. It has been a part of the continent's natural flora for thousands of years and holds historical significance among indigenous communities for its diverse range of medicinal applications. Known scientifically as Oenothera, the Evening Primrose has been studied for its essential fatty acids and has also made its way into European gardens over the centuries. As such, it is a plant steeped in a rich tapestry of history, cultural significance, and scientific interest.
Uses: While primarily celebrated for its ornamental beauty and nocturnal blossoms, Evening Primrose offers more than just aesthetic appeal. The plant has traditional medicinal uses, including the treatment of skin conditions and as an anti-inflammatory agent. The yellow blossoms add a splash of color to gardens, particularly in twilight settings where its flowers can truly shine. The plant also attracts pollinators like moths and is even deer-resistant, offering ecological benefits alongside its visual and medicinal uses.
Growth Habit and Planting Instructions: Evening Primrose is a perennial herbaceous plant that usually grows less than 2 feet in height but can spread between 2 and 5 feet wide, making it ideal for ground cover or border planting. It prefers full sun to partial shade and thrives in moist, well-drained soil conditions. Plant the seeds in early spring, either by directly sowing them into the garden or by starting them indoors 6-8 weeks before the last frost. Sow the seeds about 1/8-inch deep and water moderately. Within 60-70 days from planting, you'll witness the emergence of its brilliant yellow blossoms that uniquely open as the sun sets. Regular watering and occasional fertilization will ensure a lush, vibrant display.