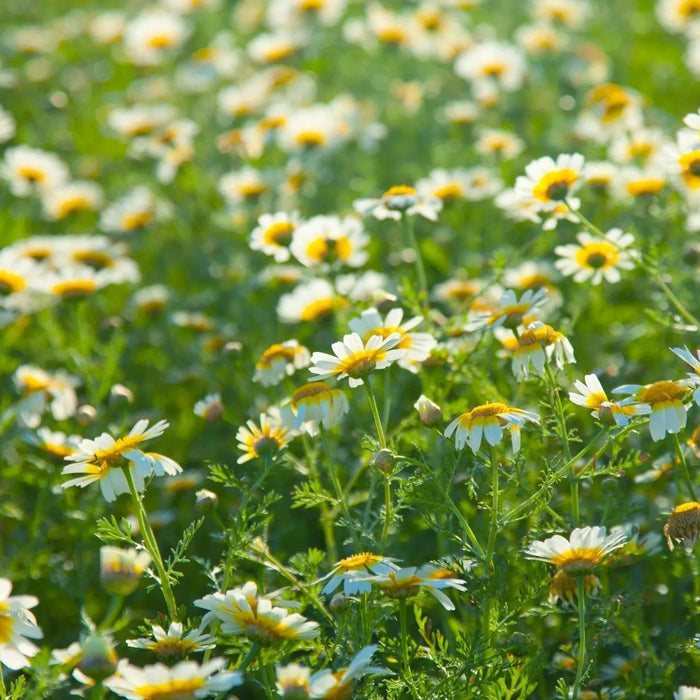 Chrysanthemum Seeds - Garland
Sold out
Original price
$2.50
-
Original price
$2.50
Seed Count: 150 Seeds
Maturity Date: Typically blooms 60-75 days after planting.
Color Spectrum: Vibrant shades of yellow, white, pink, and red.
Plant Height: 12-18 inches.
Plant Width: 8-12 inches.
Preferred Conditions: Full sun to partial shade and well-drained soil.
Flower Diameter: 2-3 inches.
Leaf Type: Dark green, glossy leaves.
History:
Originating in the Mediterranean region, the Garland Chrysanthemum or Crown Daisy has been a cherished presence in gardens for centuries. This variety of Chrysanthemum has been cultivated not just for its captivating blooms, but also as a specialty green in various culinary traditions, notably in Asian cuisines where it is esteemed for its distinctive taste.
Uses:
Beyond their ornamental charm, Garland Chrysanthemums are versatile. As cut flowers, they elevate any floral arrangement with their vibrant hues. Their dried form retains much of this vibrancy, making them sought after for crafts and dried arrangements. Importantly, their leaves are also culinary stars, often used in soups, salads, and stir-fries. Rich in flavor and nutritional value, these specialty greens have become a staple in many kitchens. Furthermore, their role in promoting pollinator activity is pivotal; bees, butterflies, and other insects frequent these flowers for their nectar, amplifying the ecological balance in gardens.
Growth Habit & Planting Instructions:
The Garland Chrysanthemum is notably low-maintenance. To plant, choose a spot with well-draining soil, ideally in full sun, though they can manage in partial shade. Space seeds about 6-8 inches apart. Water regularly but avoid overwatering. As the plants mature, you'll witness an upright, bushy growth culminating in clusters of radiant flowers atop sturdy stems. Accompanied by glossy, dark green leaves, this floral display is sure to captivate onlookers. Given their hardy nature, both novices and seasoned gardeners will find these plants a joy to cultivate.
With their blend of ornamental and culinary value, Garland Chrysanthemum seeds are a rewarding choice for diverse gardens. Whether you're aiming for a visual treat, a kitchen ingredient, or a pollinator haven, these seeds promise to deliver. Order now and add a splash of multifaceted beauty to your garden.