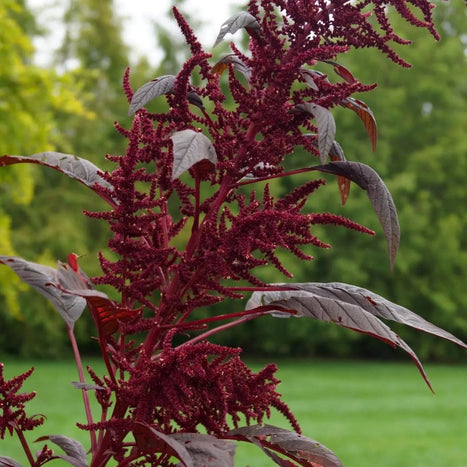 Amaranth Seeds - Hopi Red Dye
Original price
$2.00
-
Original price
$2.00
100 Seeds

90-110 Days from Planting/Transplanting

Tall Growth Habit

Historical Significance
Vibrant Red Coloration
History: 
The Hopi Red Dye Amaranth is deeply interwoven with the culture and history of the Hopi people. Revered for its vibrant red color, this plant has been used for centuries by the Hopi people to produce a natural dye for their world-renowned basketry and textile arts. Its cultivation stands as a testament to their agricultural prowess and spiritual connection to the land.
Uses:
While the primary historical use of the Hopi Red Dye Amaranth was to extract its brilliant dye, it offers more than just color. The seeds, rich in protein, can be ground into flour or cooked as a grain, while the young leaves can be enjoyed as a nutritious leafy green. Beyond its culinary uses, the striking red plumes make for a visually arresting addition to gardens and floral arrangements.
Growing Habits & Planting Instructions:
Plant seeds about 1/4 inch deep in well-drained soil, ensuring they receive full sunlight. Once established, the plants are notably drought-resistant but will benefit from regular watering during their early growth stages. As they mature, the plants can reach impressive heights, making them a standout feature in gardens and landscapes.