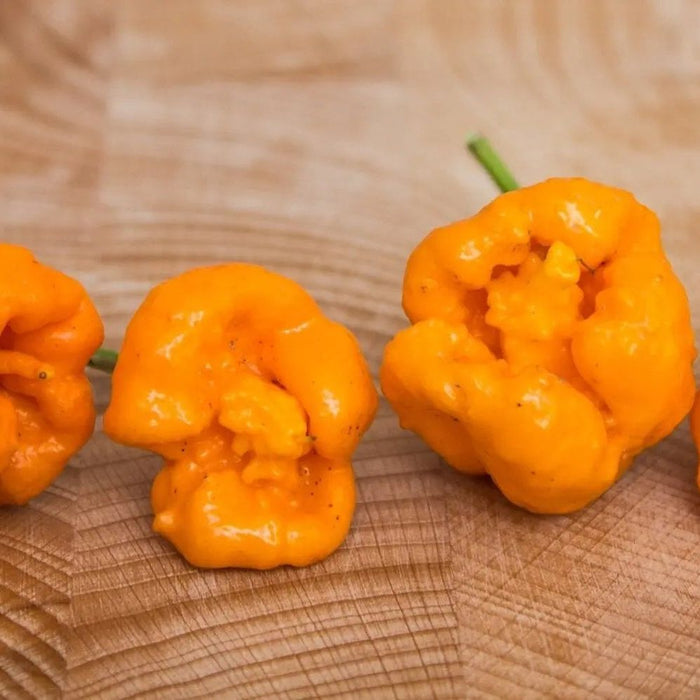 Pepper Seeds - Hot - Seven Pot Yellow
Sold out
Original price
$2.00
-
Original price
$2.00
10 Seeds per Packet
Maturity: 140 Days from Planting/Transplanting
Heat Level: 1,000,000 - 1,200,000 SHU
Fruity and Slight Citrus Flavor
Pod Color: Yellow when Mature
Size Comparable to Red 7 Pot Peppers
Categorized as Super Hot
One Pepper Spices Seven Pots of Stew
History: Originating from the Caribbean, the Yellow 7 Pot pepper gets its unique name from its legendary potency; a single pod is said to provide enough heat to spice up seven pots of stew. This pepper, though belonging to the wider 7 Pot family, stands out for its rare yellow strain. For generations, it has been revered not just for its exceptional heat but also for its distinct fruity, citrusy flavor.
Uses: Beyond its obvious application in spicy stews, the Yellow 7 Pot pepper can be utilized in a variety of dishes. Its fruity and slightly citrus undertones make it an excellent choice for hot sauces, marinades, and spicy dips. However, chefs should handle with caution, ensuring that its intense heat is balanced well with other ingredients, to bring out the best flavors without overwhelming the palate.
Growing Habits & Planting Instructions: For those looking to cultivate this fiery delight, it's essential to start early, given its longer maturation period. Seeds should be sown around 1/4 inch deep in a mix of potting soil and planted in a sunny location. These peppers thrive in warm environments, so shielding them from frost and sudden temperature dips is paramount. Regular watering without over-saturating the soil will lead to the growth of yellow pods, signifying their readiness for harvest. Always handle with gloves, as the oil can cause irritation.