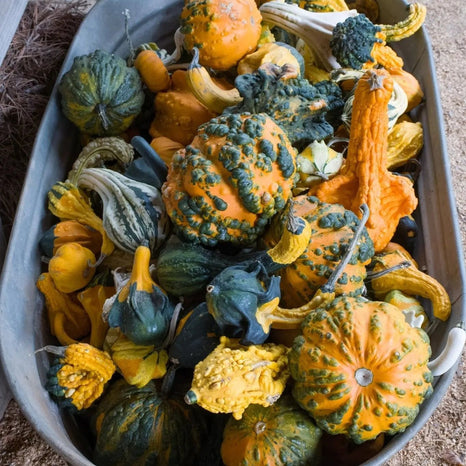 Gourd Seeds - Large Mixture
Original price
$2.00
-
Original price
$2.00
20 Seeds
Extended Growing Period Needed
Mixture: Calabash, Dipper, Sugar Trough, and More
Thick Flesh with Tough Skin
Global Collection of Popular Gourds
Ideal for Diverse Culinary and Craft Uses
Requires Strong Support for Growth
Flavor Enhances with Extended Maturation
History: Gourds have a rich history, woven into the fabric of many ancient civilizations. Their versatility has been celebrated from Asia to the Americas. This Large Gourd Mix captures the essence of these global traditions by combining some of the most popular and cherished gourds known to humanity. From the iconic Calabash, which has deep roots in African and Asian cultures, to the utilitarian Dipper and Sugar Trough, this mix is a journey through the ages and across continents.
Uses: Beyond their ornamental allure, the gourds in this mix are celebrated for their culinary and functional potentials. The thick flesh is perfect for crafting bowls, instruments, and containers. Their tough skin ensures longevity and resilience. In the kitchen, when allowed to mature, their flavor intensifies, lending a unique taste to dishes. Additionally, they're a favorite among artisans for crafting, painting, and carving.
Growing Habits & Planting Instructions: Gourds, especially larger varieties like those in this mix, require a nurturing environment to flourish. They thrive in full sun and well-draining soil. Given their size and the weight of the fruit, a sturdy trellis or support is crucial. Plant seeds after the last frost, ensuring a spacing of at least 5-6 feet between each to allow for optimal growth. As they require an extended growing period, patience is key. Regular watering and periodic fertilizing will ensure a healthy yield. As the flavor enhances with time, allow them to mature fully before harvesting.
This Large Gourd Mix offers both gardeners and craft enthusiasts an opportunity to experience a diverse range of gourds, each bringing its own unique charm and history. Whether you're looking to experiment in the kitchen, craft a timeless piece, or simply admire their beauty, this mix promises a rich experience.