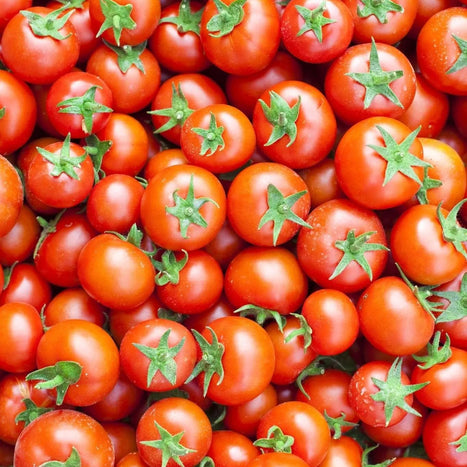 Tomato Seeds - Large Red Cherry
Original price
$0.00
-
Original price
$0.00
25 Seeds
Maturity: 75-80 Days from Transplant
Fruit Size: 1-2 Inch Cherry Tomatoes
Very Productive
Indeterminate Growth Habit
Vigorous and Dense Fruit
Exceptionally Flavorful
Origin: Northern Ohio, introduced by Ben Quisenberry
History:
The legacy of the Large Red Cherry Tomato is closely tied with the gardening prowess of Ben Quisenberry from northern Ohio. Recognizing the potential of this vibrant tomato variety, Ben introduced it to a broader audience. Over time, its appeal grew not just because of its size and flavor but also because of its robust nature, making it a favorite amongst both novice and expert gardeners alike.
Uses:
These large, grapelike red cherry tomatoes are a versatile addition to any culinary setting. Their dense flesh and full-bodied flavor make them ideal for salads, imparting a fresh and juicy element. Due to their size, they're conveniently easy to slice, making them perfect for sandwiches, garnishes, or just to enjoy on their own. Ben Quisenberry had a particular affinity for this variety, often using them for canning whole, preserving their rich taste and texture for off-season enjoyment.
Growing Habits & Planting Instructions:
Being of the indeterminate type, the Large Red Cherry Tomato plants continue to produce fruit throughout the growing season, right up until the first frost. Start seeds indoors around 6-8 weeks before the last expected frost, transplanting them outdoors once the threat has passed. Space plants approximately 24-36 inches apart in rows that are 36-48 inches apart, ensuring they receive full sun exposure. The soil should be well-draining, and the plants will benefit from consistent watering, especially during the fruit-setting phase. As the cherry tomatoes ripen, they will achieve their signature vibrant red hue, indicating their readiness for harvest.