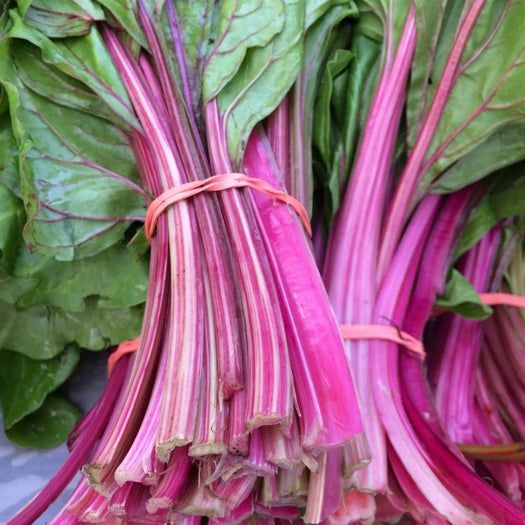 Swiss Chard Seeds - Magenta Sunset
Original price
$2.00
-
Original price
$2.00
80 Seeds
Maturity: 30 Days for Baby Leaves, 55 Days for Bunching
Appearance: Beautiful Pink-veined
Usage: Ideal for salads when young
Note: Sensitive to cool temperatures in early development
History:
Magenta Sunset Swiss Chard, with its captivating pink-veined appearance, is a newer entrant in the realm of leafy greens but has quickly gained popularity among gardening enthusiasts and chefs alike. Its delicate baby leaves, emerging as early as 30 days after planting, have become a cherished addition to fresh salads, offering both visual appeal and a delightful taste.
Uses:
The young, tender leaves of the Magenta Sunset Swiss Chard are a favorite in salads, bringing a mild flavor that complements other ingredients seamlessly. As the plant matures, its flavor profile deepens slightly, though it remains pleasantly mild, making it versatile for a range of culinary applications.
Growing Habits & Planting Instructions:
Magenta Sunset Swiss Chard is a relatively easy-to-grow variety, especially when given the right conditions. However, one crucial aspect to be mindful of is its sensitivity to cooler temperatures during its early developmental stages. This chard variant can bolt if exposed to too cold conditions early on, potentially affecting its yield and quality. To cultivate successfully, sow the seeds in well-draining soil, ensuring they receive ample sunlight. Regular watering, paired with occasional monitoring for temperature fluctuations, will result in a lush, vibrant yield.