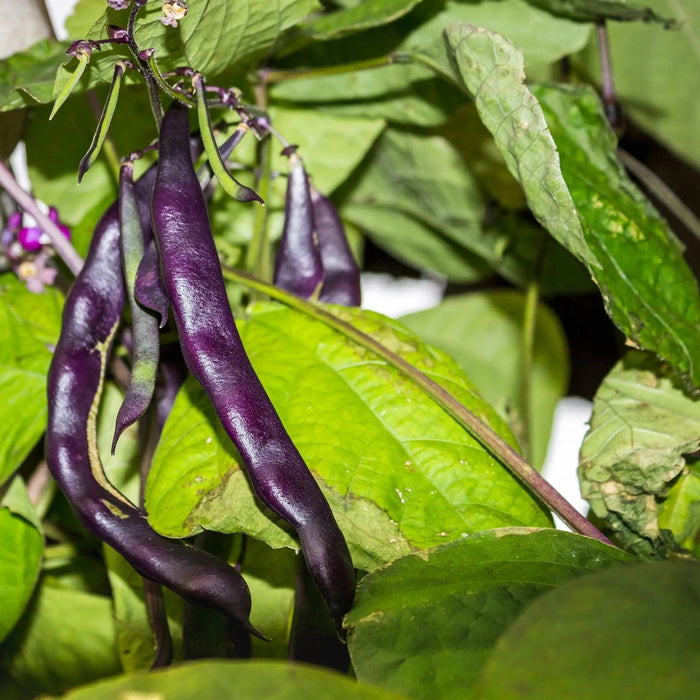 Bean Seeds - Royalty Purple Pod
Original price
$2.00
-
Original price
$2.00
25 Seed Packet
55 Days to Maturity
Bush Bean Growth Habit with Height up to 5 Feet
Stunning Purple Pods, Flowers, and Foliage
Snap Bean Type
Distinctive Stringless Characteristic
Legacy & Origin:
The Royalty Purple Pod Bean, hailing from the reputable New Hampshire varieties, is a name that resonates deeply within the gardening community. Its lineage carries with it an aura of respect, marked by consistent performance and a legacy of delighting palates.
Appearance & Flavor:
One cannot discuss the Royalty Purple Pod without highlighting its most striking feature: its vivid purple color. The almost fluorescent purple is present not just in its pods, but also its flowers and foliage, making it a visual treat in any garden. As the pods mature, they transition from a green hue, eventually turning red and falling to the ground. With their slightly curved shape and stringless nature (a rarity in beans), they are as pleasing to eat as they are to look at. Each pod measures up to 5 inches, promising a satisfying bite.
Growth & Yield:
Beyond its aesthetic and culinary appeal, the Royalty Purple Pod Bean is an exemplary performer in the garden. Growing as a bush bean, its stature reaches up to 5 feet, providing a commanding presence in the garden. Gardeners can anticipate an impressive yield, thanks to its prolific pod-producing nature.
Summary:
Choosing the Royalty Purple Pod Bean is choosing a blend of tradition, beauty, and reliability. From its stunning colors to its prolific growth, this bean variety is a must-have in every garden. Experience the magic of its legacy, flavor, and visual appeal by planting it in your garden today.