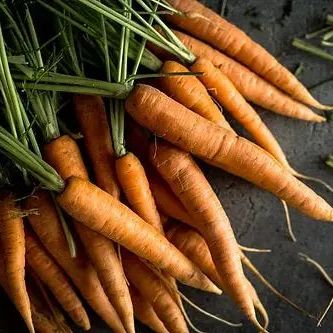 Carrot Seeds - Scarlet Nantes
Original price
$2.00
-
Original price
$2.00
700 Seeds
65-75 Days from Planting/Transplanting
Type: Medium-length Carrot
Plant Height: 15-22 inches
Tapered Root Structure Resistant to Splitting
History: The Scarlet Nantes Carrot, with roots tracing back to the French city of Nantes, has been celebrated for its almost perfect cylindrical shape and rich color. Developed specifically for its adaptability to different soil types, it quickly became a favored variety for gardeners seeking both aesthetics and taste in their produce.
Uses: With a crunchy texture and a balance of sweetness and mild spiciness, the Scarlet Nantes is versatile in the kitchen. It's equally delightful when eaten fresh, roasted, steamed, or even juiced. Its uniform size also makes it a popular choice for preserving, whether through canning or freezing.
Growing Habits & Planting Instructions: For optimal growth, sow the Scarlet Nantes Carrot seeds about 1/4 inch deep in soil that's well-aerated and free from large stones. Seedlings should be thinned to a spacing of 2-3 inches apart, ensuring they have room to develop into their signature shape. While they thrive best in full sun, they can manage in partial shade. Regular watering, ensuring the soil remains moist but not waterlogged, will lead to the best yield.