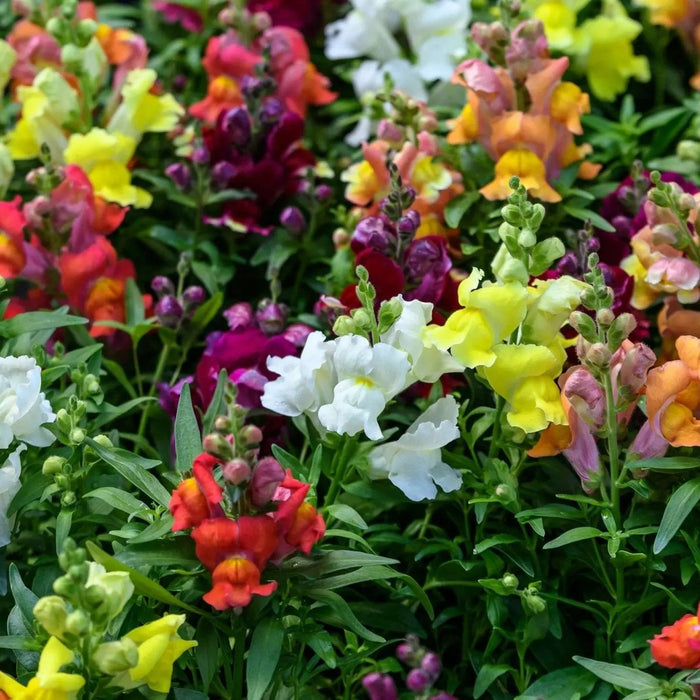 Snapdragon Seeds - Tall Mix
Original price
$2.00
-
Original price
$2.00
Seed Count: 200 Seeds
Maturity Date: 80-90 days from planting
Plant Height: 30"-36" tall
Plant Width: About 12" wide
Sun Requirements: Full sun to partial shade
Soil Requirements: Rich, well-drained soil
Special Features: Attracts bees, edible flowers
Additional Info: Ideal for mass planting, long-lasting blooms
History: Snapdragons have a long history of enchanting gardeners and nature enthusiasts alike. Originating in the Mediterranean region, these flowering plants have been cultivated for their unique "dragon mouth" shaped blooms and their vibrant color range. The Tall Snapdragon variant offers an added benefit—it acts as a magnet for pollinators like bees. The historical allure of Snapdragons extends beyond mere visual appeal; these flowers have had various symbolic meanings over time, including grace, strength, and even deception due to their unique blossom shape.
Uses: The Tall Snapdragon is not just for show; it offers a variety of uses that make it a versatile addition to your garden. Firstly, it serves as an attractive perch for bees, aiding in the crucial task of pollination. Secondly, the blooms are edible and can be used as unique, colorful garnishes for salads and desserts. Beyond this, the Tall Snapdragon is excellent for cut flower arrangements, adding a splash of color and a whimsical shape that stands out. They can also be dried for long-term decorative use, offering utility in all four seasons.
Growth Habit and Planting Instructions: Growing to a substantial height of 30 to 36 inches and a width of approximately 12 inches, Tall Snapdragons offer a commanding presence in the garden. Plant these seeds in rich, well-drained soil, and choose a location that receives full sun to partial shade. It's best to sow the seeds in early spring or late winter for a summer bloom. Space the seeds about 12 inches apart and cover lightly with soil. Germination typically occurs in 10 to 14 days under optimal conditions. Once the plants are established, they require moderate watering and benefit from a balanced fertilizer applied every 4-6 weeks. Deadhead spent blooms to encourage a longer flowering season. With proper care, your Tall Snapdragons will not only beautify your garden but also serve as a valuable resource for local bee populations.