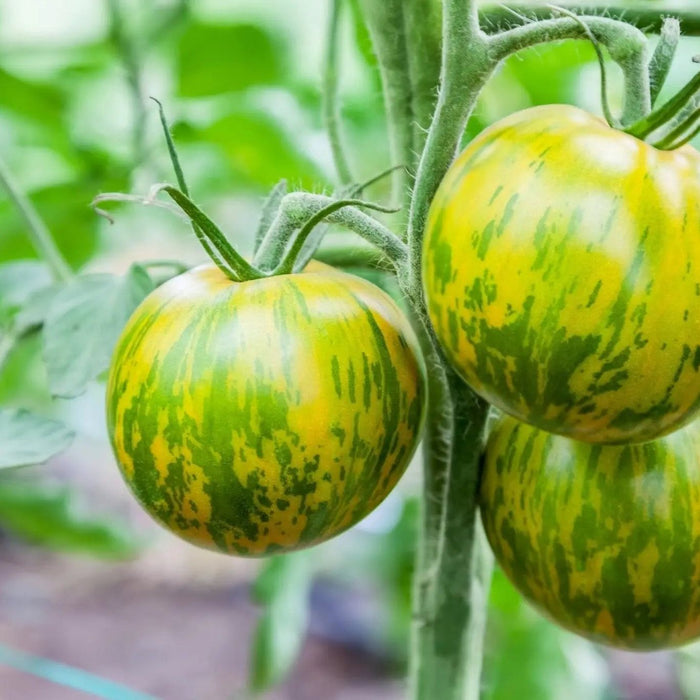 Tomato Seeds - Green Zebra
Original price
$2.00
-
Original price
$2.00
Seed Count: 25 Seeds
Maturity: 75-80 Days from Transplant
Growth Type: Indeterminate - Fruit ripens throughout the season
Fruit Size: Olive-yellow 1½-2½" fruits
Flavor Profile: Zesty with a sweet kick
Popularity: Chef's favorite, sought-after at farmers markets
Appearance: Bright green with striped flesh
Yield: Excellent
History: The Green Zebra Tomato, renowned for its distinct appearance and flavor, has become one of the most visually striking tomatoes on the market. Its unique characteristics have made it a favorite among chefs and home gardeners alike. Developed relatively recently compared to other heirloom varieties, it has quickly gained popularity due to its vibrant color and delicious taste, making it a standout variety in gardens and markets.
Uses: With its zesty flavor and slightly sweet undertones, the Green Zebra Tomato is a versatile ingredient in the kitchen. Its olive-yellow, striped fruits add a burst of color and flavor to salads, salsas, and gourmet dishes. The unique coloring and taste of the Green Zebra make it a popular choice for creative culinary applications, from appetizers to main courses.
Growing Habits & Planting Instructions: The Green Zebra Tomato is an indeterminate variety, meaning it will continue to produce fruit throughout the growing season. For optimal growth, start seeds indoors about 6-8 weeks before the last frost date. Transplant outdoors in a sunny spot with well-drained soil once the risk of frost has passed. Space plants about 24-36 inches apart to allow for adequate air circulation and growth. Regular watering and support through staking or caging are essential for these plants, as they will produce a bountiful yield of uniquely colored 1½-2½" fruits. With the right care, gardeners can expect a continuous harvest of Green Zebra Tomatoes, ready to enhance a variety of dishes with their extraordinary flavor and appearance.