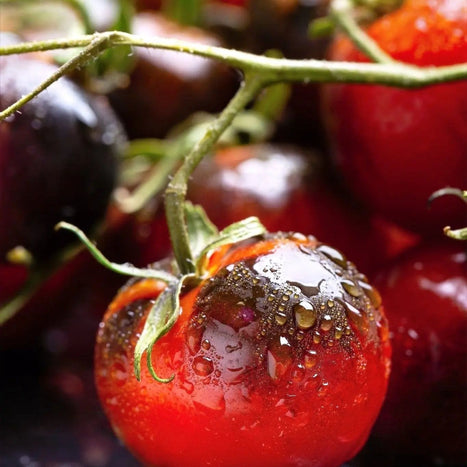 Tomato Seeds - Indigo Cherry Drops
Original price
$2.00
-
Original price
$2.00
Seed Count: 10 Seeds
Maturity: Fruit produced throughout the growing season
Plant Height: 6-8 feet
Fruit Size: 1-2 inches in diameter
Growth Habit: Indeterminate, requires staking or caging
Soil pH: 6.0 to 7.0
Temperature Range: 60 to 85 degrees Fahrenheit
Unique Feature: High levels of anthocyanins, which are powerful antioxidants
History & Popularity: Indigo Cherry Drops is an heirloom tomato variety known for its distinctive deep, dark purple color and nutritional value. Its high anthocyanin content not only contributes to its unique appearance but also provides health benefits. This variety has gained popularity among gardeners and health enthusiasts for its combination of aesthetic appeal and nutritional richness.
Culinary Uses: The small, cherry-sized fruits of Indigo Cherry Drops are celebrated for their sweet, juicy flavor with a tangy, slightly smoky undertone. These tomatoes are highly versatile in the kitchen, perfect for snacking, enhancing the visual appeal and taste of salads, or serving as a unique garnish. Their firm texture and depth of flavor make them a delightful addition to a wide range of culinary dishes.
Growing Habits & Planting Instructions: Indigo Cherry Drops tomatoes have an indeterminate growth habit, meaning they continue to produce fruit throughout the growing season. They typically reach heights of 6-8 feet and require support, such as staking or caging. For optimal growth, plant seeds at a depth of 1/8 inch and space them 24 inches apart in well-drained soil with a pH of 6.0 to 7.0. These plants prefer full sun and need consistent moisture and good air circulation to thrive and prevent disease. Starting the seeds indoors 6-8 weeks before the last frost date is recommended, or they can be planted directly in the garden after the risk of frost has passed. The ideal temperature range for growing Indigo Cherry Drops tomatoes is between 60 to 85 degrees Fahrenheit. With proper care, gardeners can expect a bountiful harvest of these nutritionally rich and visually appealing tomatoes.