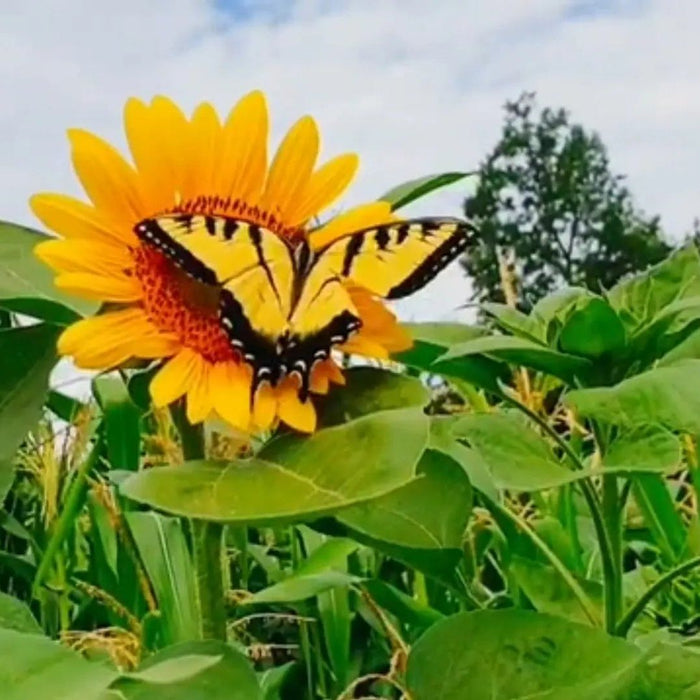 Sunflower Seeds - Tuscarora Katenoh
Sold out
Original price
$3.50
-
Original price
$3.50
Seed Count: 20 Seeds
Maturity Date: Varies depending on conditions
Plant Height: Up to 13 feet high
Flower Head Size: 10-13 inches across
Garden Barrier: Excellent for creating protective walls
Soil Preference: Versatile; tolerates a range of soil types
Sun Requirements: Full sun
Productivity: Highly productive
History: The Tuscarora Katenoh sunflower is a unique variety meticulously developed by Tuscarora seedkeeper, Fix Cain. "Katenoh" is the Tuscarora word for cypress, and the name serves a dual purpose. Firstly, it references the area where this sunflower was developed, known as Cypress Island. Secondly, the term encapsulates the primary purpose for which this sunflower is grown: to serve as a protective garden barrier. This particular variety stands as a testament to the ingenuity of Fix Cain, merging cultural significance with practical agricultural application.
Uses: The Tuscarora Katenoh sunflower is not just another pretty face; it serves a multitude of purposes. When planted closely together, it acts as a robust barrier protecting the inner garden from various environmental elements like drastic temperature changes and strong winds. This natural wall also deters deer and other potential disturbances. The strong stems of this sunflower can also serve as a trellis for climbing plants like beans, offering a two-for-one advantage for space-conscious gardeners. Furthermore, the large flower heads attract a wide range of pollinators, enhancing the biodiversity of your garden.
Growth Habit and Planting Instructions: This sunflower is quite adaptable but performs best in full sun. It tolerates a variety of soil types, making it a versatile choice for different garden settings. For use as a barrier, sow the seeds 1 inch deep, spacing them 6 to 8 inches apart to allow for a thick wall of sunflowers. If larger heads are desired, increase the spacing to 12 to 24 inches. Water regularly, especially during dry periods. The tall stalks might require some form of support as they reach their maximum height, particularly in windy conditions. When properly nurtured, the Tuscarora Katenoh sunflower is highly productive, serving not just as an eye-catching addition to your garden but as a multi-purpose asset.