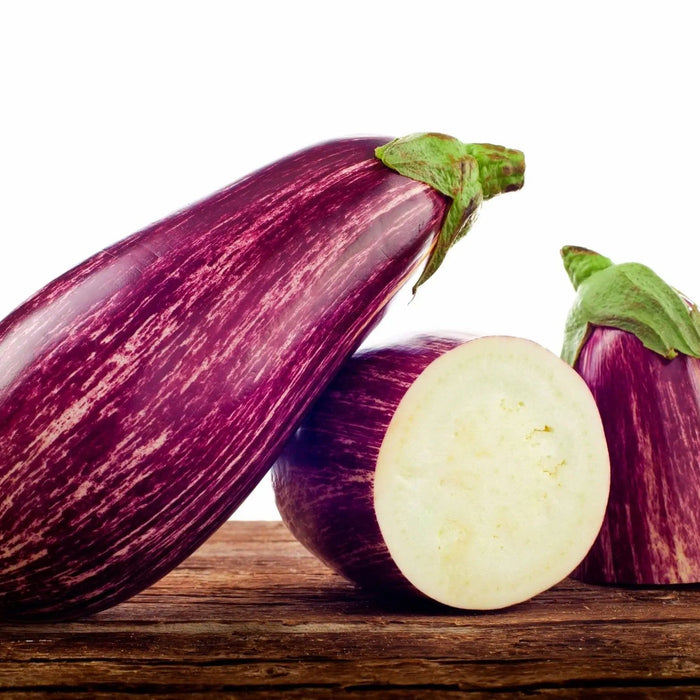 Eggplant Seeds - Listada De Gandia
Original price
$2.00
-
Original price
$2.00
30 Seeds
80-90 Days from Transplant
Small Plants up to 14 inches
Heavy Yields
Heat Tolerant
Thin-skinned Eggplants
Originated in Spain
Shiny Purple Fruits
History: The history of the Listada de Gandia is infused with the warm sun and rich traditions of Spain. The very name, which translates to "Grown in Spain," speaks to its deep-rooted Spanish origins. Over centuries, this eggplant has journeyed through time, becoming an emblem of Spanish agricultural heritage and culinary culture. Revered not just for its aesthetic appeal but also for its culinary excellence, this variety remains a testament to Spain's lasting impact on global gastronomy.
Uses: A kitchen that boasts the Listada de Gandia promises dishes that are not only visually striking but also bursting with flavor. The eggplant's thin skin ensures that every bite is tender, while its inherent sweetness makes it versatile across a variety of dishes. From traditional Spanish recipes that have been passed down through generations to modern fusion dishes, the Listada de Gandia is a culinary artist's dream. Whether grilled to smoky perfection, baked into a luxurious moussaka, or sautéed in aromatic spices, its unique flavor profile enhances any dish.
Growing Habits & Planting Instructions: Cultivating the Listada de Gandia requires a blend of patience, care, and understanding of its Mediterranean roots. These small plants, which grow up to a modest height of 14 inches, are known for their heavy yields. They're notably heat-tolerant, mirroring their Spanish origins and thriving in warm climates. To embark on this gardening journey, begin by transplanting the young plants into well-drained soil under full sun. Space them adequately to ensure they have room to flourish. Regular watering, coupled with occasional mulching, will help retain moisture, ensuring that in 80-90 days, your garden is adorned with the shiny, purple fruits of the Listada de Gandia.