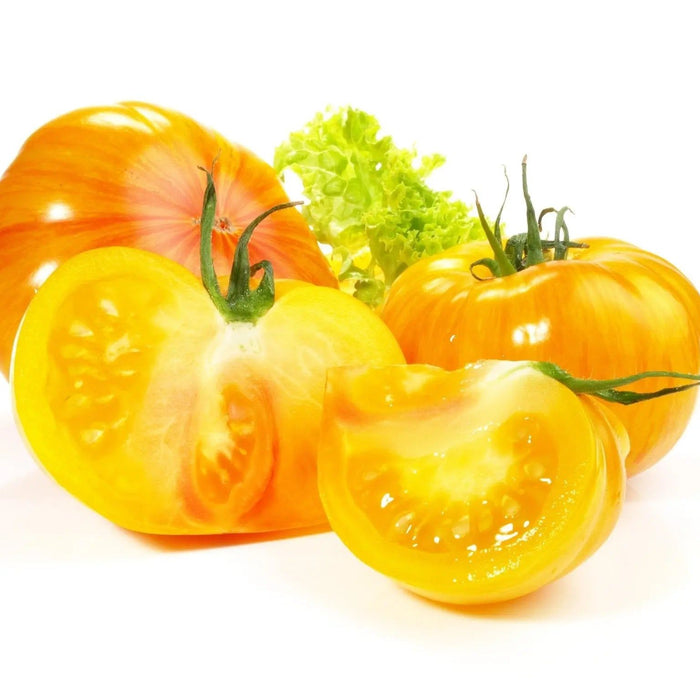 Tomato Seeds - Striped German
Original price
$0.00
-
Original price
$0.00
25 Seeds
78 Days to Maturity
Indeterminate Growth Habit
Unique Orange and Yellow Stripes with Orange Blushing
Fruit weighs around 12+ oz. each
Complex, Fruity Flavor Profile
Smooth Texture and Medium-Tall Vines
Vibrant Marbled Interior When Sliced
History:
Originating from the rich soil and tradition of European farming, the Striped German Tomato is a result of meticulous cultivation and a testament to the craft of heirloom vegetable breeding. For generations, this tomato variety has been preserved and passed down, standing as a symbol of both the art and science behind agriculture. Its name not only refers to its origin but also pays homage to the dedication of farmers who valued both taste and aesthetics.
Uses:
With its striking combination of colors, the Striped German Tomato is not just a delight for the eyes but also the palate. When sliced open, the marbled interior is a sight to behold, making it perfect for caprese salads, garnishes, or simply on a plate accompanied by a sprinkle of salt. Beyond its aesthetic appeal, its complex and fruity flavor profile ensures that it remains a favorite in gourmet dishes, sandwiches, and fresh salsas. It's an ideal choice for chefs and food enthusiasts who want a tomato that delivers both in appearance and taste.
Growing Habits & Planting Instructions:
As an indeterminate variety, the Striped German Tomato will continue to grow and produce fruit until the first frost, demanding vertical space as it stretches upwards. Start seeds indoors 6-8 weeks before the last frost date. Once the seedlings have developed and the last frost has passed, they can be transplanted outdoors. They prefer a sunny location with well-draining soil. Given their potential for height and bearing heavy fruit, a sturdy stake or cage is recommended to offer support, aiding in optimal fruit production and health. Regular watering and periodic fertilization will ensure a healthy crop and vibrant fruits.