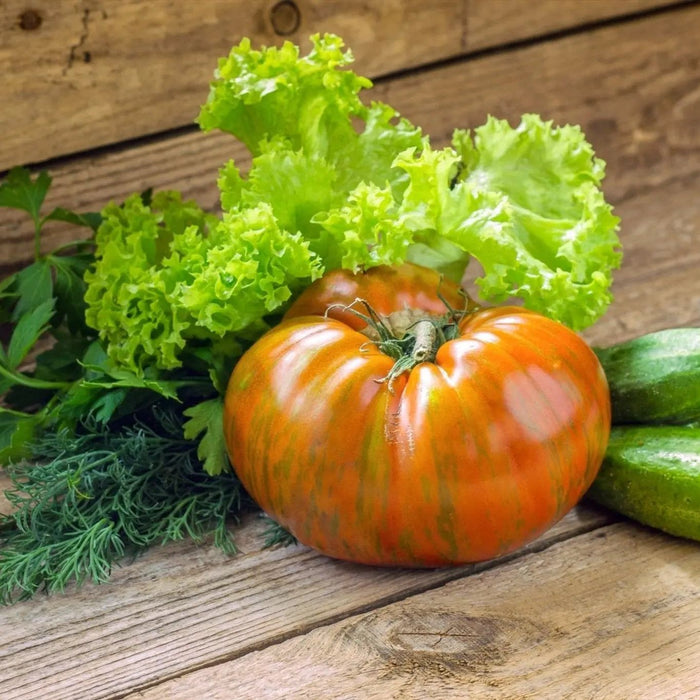 Tomato Seeds -Pink Berkeley Tie Dye
Original price
$2.00
-
Original price
$2.00
Seed Count: 10 Seeds
Maturity: Varies throughout the growing season
Growth Habit: Indeterminate
Fruit Weight: 8-12 oz
Fruit Appearance: Pink, yellow, and red streaked; large, round shape
Soil pH: 6.0 to 7.0
Temperature Range: 60 to 85 degrees Fahrenheit
Plant Height: 5-8 feet
History: Pink Berkeley Tie-Dye tomato is an heirloom variety that stands out for its unique and attractive multicolored fruit. This variety is part of a rich tradition of tomato cultivation, known for its visual appeal and exceptional taste. As an heirloom, it represents a lineage of open-pollinated plants that have been carefully nurtured and passed down through generations, preserving their distinctive characteristics.
Culinary Uses: The Pink Berkeley Tie-Dye tomato is celebrated for its sweet and slightly tangy flavor, making it a fantastic choice for a variety of culinary uses. The large, round fruits, weighing between 8-12 ounces, are perfect for slicing and adding to sandwiches, salads, and burgers. Their striking marbled flesh not only adds visual appeal to dishes but also a depth of flavor that is highly appreciated by tomato enthusiasts and chefs alike.
Growing Habits & Planting Instructions: As an indeterminate tomato variety, Pink Berkeley Tie-Dye continues to produce fruit throughout the growing season. For successful growth, plant in an area with full sun and well-drained soil, maintaining a pH between 6.0 and 7.0. Start seeds indoors 6-8 weeks before the last frost date, sowing them approximately 1/4 inch deep. Transplant outdoors once all danger of frost has passed and the soil has warmed, leaving about 24-36 inches between plants. Regular watering and good air circulation are important to prevent disease. These plants can reach a height of 5-8 feet and require support, such as staking or caging. With proper care, gardeners can enjoy a bountiful harvest of beautiful, tasty tomatoes throughout the season.