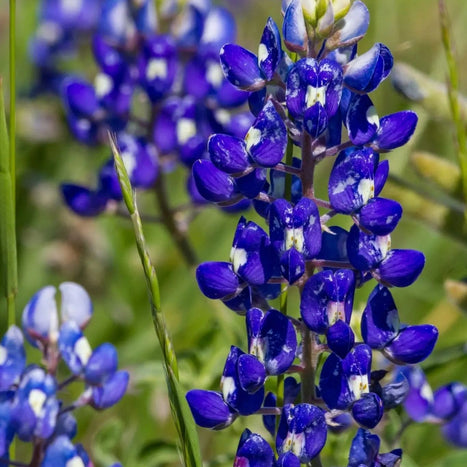 Lupinus Seeds - Texas Bluebonnet
Original price
$2.00
-
Original price
$2.00
Seed Count: 20 Seeds
Maturity Date: 70-80 days after planting
Plant Height: 1-2 feet
Plant Width: About 1 foot
Flower Colors: Vibrant blue and white
Growing Habit: Upright, bushy
Light Requirements: Full sun to part shade
Soil Requirements: Well-drained soil
History: The Texas Bluebonnet is a variety of lupine that holds significant cultural importance, particularly in its native state of Texas. Named the state flower in 1901, it has become synonymous with the state's rich wildflower heritage. Every spring, fields across Texas burst into a sea of blue as the Bluebonnet comes into bloom, creating a spectacular display that attracts tourists and photographers alike. This wildflower's historical role is deeply interwoven with Texan identity, symbolizing the natural beauty and resilience of the landscape.
Uses: Aside from its iconic status, the Texas Bluebonnet serves multiple practical functions in the garden. Its vibrant blue and white flowers are excellent for cut flower arrangements, bringing a burst of color into your home. Additionally, its lobed, green foliage adds textural interest, enhancing its ornamental value. The flowers are also known to attract various pollinators like bees and butterflies, making it an eco-friendly addition to your garden. The upright, bushy growing habit makes it ideal for rock gardens, wildflower meadows, or as a colorful border in a traditional flower bed.
Growth Habit and Planting Instructions: Texas Bluebonnet is a hardy annual that requires minimal care, making it suitable for both novice and experienced gardeners. They grow best in well-drained soil and can thrive in a range of light conditions, from full sun to partial shade. To plant, simply scatter the seeds over the soil in either late fall or early winter for spring blooms. Lightly rake the soil to cover the seeds and water moderately. Plants should be spaced about 12-18 inches apart for optimal growth. Generally, you can expect your Texas Bluebonnets to mature and bloom 70-80 days after planting, reaching heights of 1-2 feet and spreading about 1 foot wide. Their easy-to-grow nature and minimal maintenance requirements make them an excellent choice for a fuss-free yet colorful garden.